For over 30 years, MSI has focused on pioneering and innovating gaming rigs for enthusiasts worldwide from overclockable pc to slimmest gaming laptop with tons of gaming features; such as Hi-Res Audio, 120Hz/3ms fast gaming display, and world's 1st full-size mechanical keyboard gaming laptop. All these milestones are the building blocks that solidified MSI's position as market's 1st in Gaming.
The GE series has always been an all-time favorite by gaming enthusiasts since inception. But this year, the brand new GE63VR/73VR Raider has been given a facelift inspired by exotic sports cars. With more angular appeals and trims all around, this all new game changer is making its debut to enthusiastic gamers with a bang.

Revolutionary Cooling Module for Enthusiastic Gaming – CoolerBoost 5
The latest MSI Cooler Boost 5 excels as a dual thermal module, adopting dual Whirlwind Blade fans with 7 heat pipes and well-endowed 4 airflows, efficiently dissipating heat out of the system, raising the bar in cooling technology for gaming laptops. Especially design for GTX 1070 level graphics with greater performance and lower temperature.
More Resonace and High Quality – Giant Speaker
For the first time ever, MSI is implementing Dynaudio's Giant Speakers inside with 5x bigger full range chamber and 3x bigger speakers, that makes a gaming laptop to provide 50% higher volume, quality enhancement creating exhilarating audio experience like never before. End-users can feel every engine sound waves roaring with upgraded giant speakers and world-class Dynaudio sound system. Exclusive audio module design and independent resonance space for top-notch auditory sensation. Oversize 2 speakers + 2 woofers creating a realistic, fulfilling sound and immersive effects. It allows gamers to step into an incredible sound feast with highest satisfaction!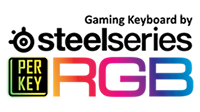 World's first Per-Key RGB laptop with Gaming Keyboard by Steelseries
Per-Key RGB keyboard does more than just looking cool, you may receive real time game stats like ammo levels, health levels, tool durability, and take immediate actions, gaining full control of gameplays. Every hardware detail of this keyboard is also calculated and especially designed for professional gamers' needs. The keyboard has ergonomically-designed keys with 1.9mm of key travel for a better responsive and tactile feedback, optimal WASD zone and support of anti-ghosting capability for up to 45 keys. Mechanical-level shielding solution is what makes this keyboard one of the finest in the industry. The idea behind is to provide a robust keyboard so that gaming never stops!

Win by a Millisecond Faster – World's first 120Hz/3ms Advanced Gaming LCD
As the only gaming laptop with 3ms response time 120hz panel, this is the go-to companion you can count on to never lose a detail especially during chaotic gameplays. The level of realism is drawn from the panel's ability to produce up to 120 picture frames per second, topped with 94% NTSC Color Gamut calibration to bring you the most vibrant visuals for your ultimate entertainment pleasures. With its decent quality, the HDR format video will also show its stunning color range on it without any obstruction.

Don't embarrass yourself looking for an USB port
MSI exclusive technology helps you find the USB port instantly
*Only available on 7RF/7RE