MSI, world leading in gaming hardware design, is thrilled to announce a new partnership with Corsair, leading performance memory brand. To celebrate the recently revealed powerful Z170A MPOWER GAMING TITANIUM, for a limited time, starting today it comes with a high performance Corsair Vengeance 16GB DDR4 memory kit, making it a perfect match for a great gaming rig, with even greater value. This bundle program titled "TITAN'S VENGEANCE" is available worldwide. Configurations might differ per region, so be sure to checkhttps://gaming.msi.com/promotion/corsair-memory-bundle for more information.
Reimar Goetze, Corsair DRAM department Global Product Manager says: "Corsair is a leader in performance DRAM since the inception of the category; pairing fast memory – Vengeance LPX – with a class-leading motherboard – MSI Z170A MPOWER Gaming Titanium – unlocks the great responsiveness and high bandwidth capabilities of the latest enthusiast platform".


Z170A MPOWER GAMING TITANIUM
The unique silver themed motherboards are built based on the critically acclaimed and award-winning TITANIUM concept, introduced first in the motherboard industry by MSI in 2015. The Z170A MPOWER GAMING TITANIUM features an all new design for its solid plated heatsinks and covers in full silver color and is inspired by the latest military and spacecraft technologies. One of the best and most eye-catching new additions is the Steel Armor TITANIUM backplate. Besides looking indestructible, the TITANIUM armored backplate strengthens the board so you can use the biggest and heaviest graphics cards and CPU coolers available. At the same time, the stainless alloy plate protects the back of the motherboard against possible harm as well.

Game changing features (Audio Boost 3, Turbo U.2, USB 3.1 Type-C, DDR4 Boost and more)
The Z170A MPOWER GAMING TITANIUM features Audio Boost 3 with Nahimic. This pinnacle in onboard sound comes with a selection of best audio components to deliver a studio-grade sound experience and makes sure you dominate the battlefield.
For the ultimate SSD speeds, Turbo U.2 onboard is present to use the latest and greatest SSDs available in the market, supporting NVMe with transfer speeds up to 2400 MB/s using a single drive. Instead of 1 Turbo M.2 slot, the new MPOWER features 2x Turbo M.2 slots with Steel Armor, supporting 2x NVMe SSDs at the same time. Using the unique and easy to use M.2 Genie option in Click BIOS 5 to enable RAID 0, this allows the user to reach even more insane SSD speeds. Direct front USB Type-C is compatible with next generation PC chassis, perfect for the latest smartphones and great for next generation SSDs and other mobile storage devices.
Take advantage from next-gen storage solutions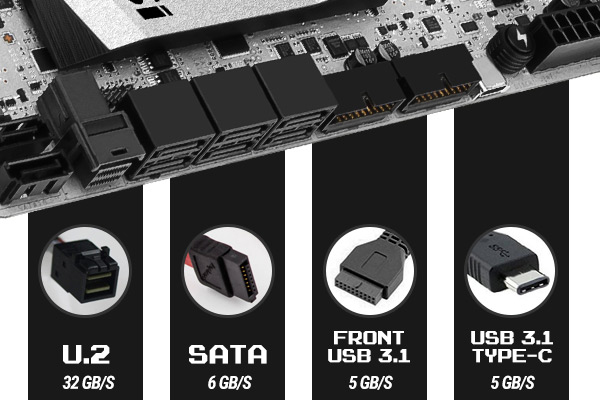 Besides featuring the latest technologies, the Z170A MPOWER GAMING TITANIUM also features DDR4 Boost, accompanied by DDR4 Steel Armor to ensure the best memory performance up to DDR4-4000. TITANIUM models also support Game Boost, the one-second overclocking option. With 8 gears up available simply overclock up to 5GHz in just one-second! Want to push the limits and break world records? The Z170A MPOWER GAMING TITANIUM is built as a perfect tool for extreme overclockers and includes great features to unlock more potential, such as OC Engine and new OC Optimizer for higher overclocking results and more convenience.
Designed for high-performance on Intel X99 and 100 Series motherboards
Vengeance LPX memory is designed for high-performance gaming & overclocking. The heatspreader is made of pure aluminum for faster heat dissipation, and the eight-layer PCB helps manage heat and provides superior overclocking headroom. Each IC is individually screened for performance potential.
Take advantage from next-gen storage solutions


Unlock more performance with Memory Try It!
Thanks to MSI exclusive BIOS feature "Memory Try It", users can unlock the full potential of the MSI Z170A MPOWER GAMING TITANIUM and Corsair Vengeance memory to get additional performance for free! After using Memory Try It! to automatically overclock the default frequency of DDR4-2400 to DDR4-2800 or even faster, one can increase system performance up to 21%.
Take advantage from next-gen storage solutions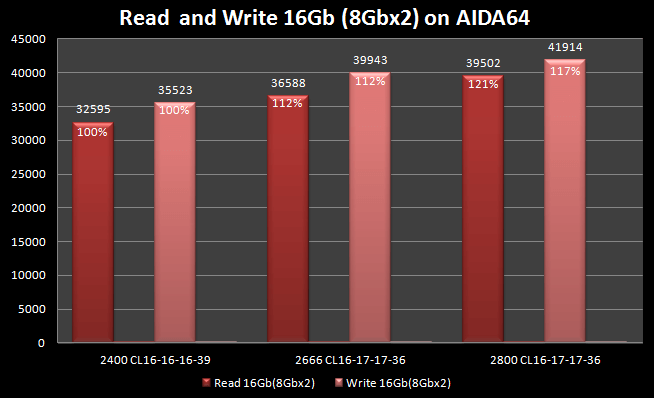 Memory Try It: AIDA64 showing memory speed increased by 21% in read and 17% in write This exclusive bundle promotion applies to selected countries during a limited time and quantity. Promotion period starts on July 22, 2016 and till while stock last. The promotion details and configuration can differ in each country. Please visit the "TITAN's VENGEANCE" landing page for more info: https://gaming.msi.com/promotion/corsair-memory-bundle